Ultra thin sheet inlay
Tansoc Technology CO., LTD offers a broad range of LF(125KHz) and HF(13.56MHz) finished products designed for the most demanding applications.
LF inlays complying with ISO 18000-2 standard, chiefly devoted to vehicles management system, safety management system, and hotel central locking system applications.
HF inlays complying with ISO 14443 A and B standards, chiefly devoted to transportation ticketing, access control, and identification applications.
HF inlays complying with the ISO 15693 standard, specially adapted to asset traceability applications.
To meet the market demand for ultra-thin card,
Tansoc
.com provides orresponding inlays with advanced etching antenna, as well as flip-chip bonding, which makes you be able to produce thin cards with the thickness of less than 0.50mm!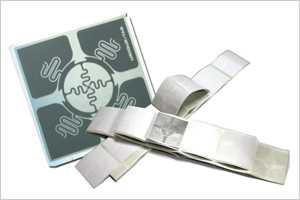 Product name
:RFID Inlay
Material
:PVC or PET
Size
:54*85.5*0.86mm
Frequency
:13.56MHz&125KHz
Communication Protocol
:ISO 14443A
Work temperature
:-15°C~+55°C
Packaging technology
:Ultrasonic automatic winding and Automatic Welding
Surface treatment technology
:Glossy or matte
Surface optional design
:Four-color offset printing, magnetic stripe, signature strips,marking,laser code,Convex code,Punch,Bronzing,hot silver, plus security,embossed oil, Gold-plated at the end,Silvering the end of
Main used in
: access control,tickets,membership,public transportation,
supermarket,e-payment etc.
Spare number
:1.0‰
Packing
:200pcs/box,2000pcs/carton;carton size:50*24*15cm